13 May 2016
The Future Built in
A modern fighter aircraft will have an operational life of thirty to forty years, perhaps more. This poses a great challenge for air forces. How can you maintain technological superiority over the fighter's entire life in service? Especially when engineering capabilities are becoming more widely available, to both friends and foes, and technology advances much faster.
The smartest thing with Gripen is its ability to constantly evolve. Very few things are more high tech and complex than fighter jets. Still they can be upgraded, not that different to how you upgrade the operating system on your smart phone or buy new functionality in apps. Traditionally, aircraft operates for 10-15 years before being upgraded to fly another 10-15 years. But Gripen is different. We have a long tradition of gradual development. Every two to three years we introduce new operational upgrades and combat enhancements to Gripen.
Our philosophy
Our development philosophy has several advantages. Most importantly the fighter is always up to date, continuously enhanced to take on and defeat combat challenges. Secondly, the upgrades can be adapted to specific requirements. If you make just one major upgrade you must predict the future operational needs for the rest of the aircraft's lifetime, knowing very little about future threats. The world is constantly changing, and the pace is rapid. Five years ago few could predict the developments in Ukraine and Syria. The flexible design of Gripen allows us to constantly upgrade the system and add capability when the need arise.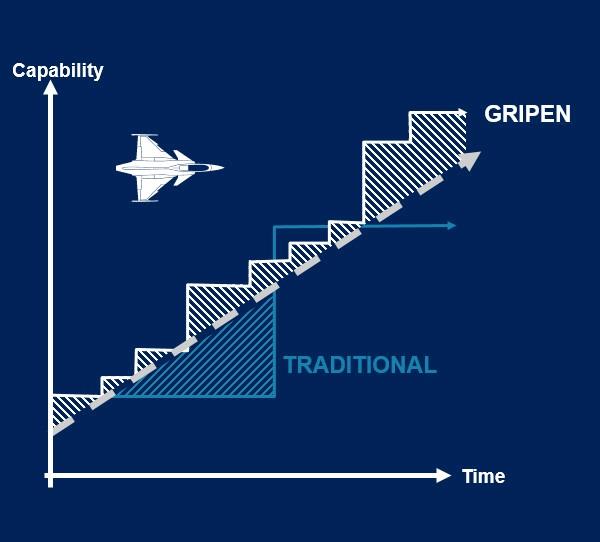 How we do it?
So how is this possible to incorporate new technologies in an already existing and complex fighter? Firstly it's thanks to the flexible and modular design of Gripen. Whenever the development focus is shifted to a new area of interest, the modules within this area can be upgraded with minimum impact on the rest of the aircraft. Secondly, Gripen has a split avionics architecture, where Flight Critical Systems are separated from the Tactical. This way, it's possible to make changes, adaptations and improvements in the tactical avionics without interfering with the aircraft flight characteristics and control system.
The Gripen C/D and the next generation Gripen E are two different platforms, but they will be able to benefit from another in future development. It will be possible to add capabilities from Gripen E to Gripen C/D, and vice-versa. And in the future we see more capabilities being added. Our customers can constantly grow with Gripen.