2 December 2021
Dispatching at the world's busiest airport
When operating in critical environments, communication is key. Not least when it is taking place at a major airport with thousands of employees and often involving several different systems for radio and voice communication. When Hong Kong International Airport decided to streamline its communications capabilities, the choice for its implementation fell on the TactiCall Dispatcher from Saab.
A modern airport is an advanced and complex environment where shortcomings in communication involving the ability to dispatch people to different parts of the operational flow, can have severe consequences for its intended outcome. In the control room, operators are seated in rows behind monitors dispatching people to different places, handling massive quantities of information, often with no common interface and every so often with two or three radio units on each operator desk.
A more resilient system environment
Hong Kong International Airport (HKIA) is one of the largest and busiest airports in the world. When expanding its operations with a new and additional control room and backup room, the airport will use Saab's TactiCall Dispatcher to coordinate and streamline its communication with their nearly 100.000 employees working all around the facility. With the TactiCall Dispatcher and its decentralized distributed system and common interface it is much easier for the operators to focus and prioritize among their tasks, while at the same time it creates a more resilient 24/7 system environment.
A proven solution
The TactiCall Dispatcher is a proven solution for integrated control room communication developed to optimize, modernize and future-proof dispatching capabilities. By combining multiple communication technologies in one single interoperable communication platform, TactiCall Dispatcher radically reduces the number of communication devices required and provides the tools needed for monitoring all communications.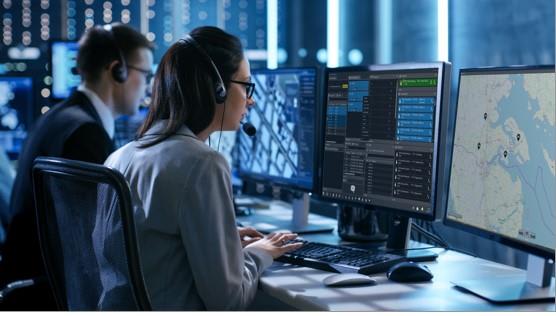 Multiple systems, one interface
And what were the decisive factors for one of the world's most modern and demanding airports to choose the TactiCall Dispatcher?
"Integration of multiple communication technologies in a single communication platform is increasingly being requested by the markets and that is where the TactiCall Dispatcher fits perfectly, allowing all communications to be monitored from a single user interface", says Heino Lundgren, Head of Saab Danmark, continuing:
"We deliver a robust user-friendly radio dispatch capability that provides enhanced situational awareness, collaborative pooling/sharing of voice and data communications, accurate resource status and location information, voiceless dispatch, mobile resource self-service, and group communications that seamlessly span current and legacy radio and telecommunication systems. This means lesser units to operate, increased safety and security, a better working environment and improved economics".
Developed with the user in mind
Torben Hess is Saab Danmark's Sales Manager and he has been working with the TactiCall Dispatcher since the product was introduced to the market five years ago and also been involved all the way through the deal with HKIA. This is how he describes the advantageous dispatcher user interface.
"It is optimized for control rooms and radio dispatch operations, capable of presenting large volumes of complex status information from thousands of radios and talk groups in an efficient, intuitive and user-friendly interface that minimizes clicking, typing, and rekeying. This provides operators with clean desks and a better overview, helps in reducing human errors and thus creates a higher level of safety", says Torben Hess.
A case built on four strong arguments
When asked what makes the TactiCall Dispatcher so well adapted for the modern control room, Torben Hess highlights four points in particular.
"Firstly, the TactiCall Dispatchers' ability to interlink different control room media and handle all communication, regardless of whether it takes place via phone, Tetra radios, VHF radios or intercoms, is unique and designed to help customers to address key challenges, such as improving public services, reducing costs and adapting to the rapid technological evolution", says Torben Hess and adds:
"Secondly, it is a Clustered Dispatching Solution with a fully distributed design that ensures unprecedented levels of high availability, and that loss of more components will not stop the solution from functioning, even during a major crisis. There is no single point of failure."
The third point is that it is a fully scalable solution with the ability to scale from one single workstation to hundreds as well as to multiple control rooms across multiple sites. And all these workstations will work as a coherent part of one coherent high-availability system that shares communication resources, audio and situational awareness.
The fourth, not least important point, is about "all systems – one interface", says Torben Hess explaining:
"The TactiCall Dispatcher makes integration of multiple telecommunication technologies, from multiple vendors, within a single interoperable communication platform, possible. The user is abstracted from the need to know which technology is being used. It simply works. The value that offers for transition between old and new communication technology is considerable".
Why Saab
While Saab is a well-known provider of communication solutions for Public Safety, and is applying this expertise in the airport market. Saab has deployed it's security platform to major airports including Stockholm Arlanda, Phoenix Sky Harbor, Dallas Fort Worth, and the Port of New York New Jersey airports (Newark, John F Kennedy and LaGuardia). So how come Hong Kong International Airport chose Saab as its supplier? According to Heino Lundgren, there were many different aspects that ultimately weighed in Saab's favour.
"We had the right product and also the right approach. The approach was to take on the role as key supplier. Which means, we would not only deliver a state-of-the-art system and associated support services. We would also provide and take overall responsibility for the complete integration services, thus minimizing risks for the customer while at the same time ensuring and maximizing system capabilities", Heino Lundgren concludes.
Committed for the long-term
The new HKIA control room will consist of 109 operator positions with another 101 operator positions in the backup room. The TactiCall Dispatcher will handle all phone calls, Tetra radios, VHF radios and intercoms. The airport has for example 280 elevators for transporting passengers between different floors in the airport buildings and each elevator has an intercom system enabling passengers to contact an operator for help should the elevator get stuck.
The HKIA solution will be put into operation over the coming years, whereafter a maintenance and support agreement will take over handling the system in close co-operation between Saab, our local integrator and partner Shun Hing Systems Integration, and the airport.