All systems – one interface
Being completely modular, Tacticall ICS will allow you to put together the functionality needed to support your operational requirements spot on. It makes up the centerpiece in remote controlled setups from single radio to complete operations. Integrating seamlessly with third party equipment, legacy or new, it will protect prior investments and prolong the lifespan of your existing systems as well.
The intuitive and modern user interface will guarantee secure and reliable operations within every operational setup, be it within international or joint coalitions, own force squadrons or single ship operations.
In every way TactiCall constitutes a robust and highly survivable system with no single point of failure, which will let you handle voice and data communication, red as well as black, in a fast and efficient manner.
Internal and external
TactiCall gives a complete control of, and fast access to, all internal and external communication networks, whether it is on shore or off shore. Be it functional nets including telephony, public address systems, or working nets handling alarms, broadcasts and orders.
TactiCall is highly flexible and scalable and can be easily integrated with, or added to, existing working environment. Further, the system is platform independent and will integrate seamlessly into combat management system of choice.
TactiCall allows control of all internal and external communication, including secure voice separation with multiple levels of security and radio remote control. TactiCall enables key features such as record and playback helps log and later analyse communication flows.
User experience
Communicate flexibly and effectively
Define the nets needed and assign operator access to each of these – that simple! Operators can concurrently monitor or communicate via any combination of the accessible nets – if permitted by your communication policies, including security restrictions. TactiCall gets the message through, even when having to adapt the nets' operational parameters using remote control.
Connect whoever is needed
TactiCall provides you with tools to let all involved parties communicate effectively, regardless of frequency bands, standards and equipment suppliers. This can be achieved by either preconfigured connections through the management system or on-the-fly patches created and maintained by the operator.
TactiCall supports your public address functionality
Both general announcements and emergency alarms can be triggered by the operator with no more than three touches on the TSS. Alarms and Public Address can be configured to either address individual sectors and zones or be broadcast on the entire vessel - and of course be triggered either generally or individually. In addition to this, the PA can be setup to broadcast either predefined messages or live speech.
An effective telephony solution
TactiCall includes a full feature telephony element, which can replace the traditional stand-alone telephone system. Dial from operator defined phone books, using either the number pad, using direct call keys or respond to last calls. Each physical unit has a phone number, as well as all operators and roles.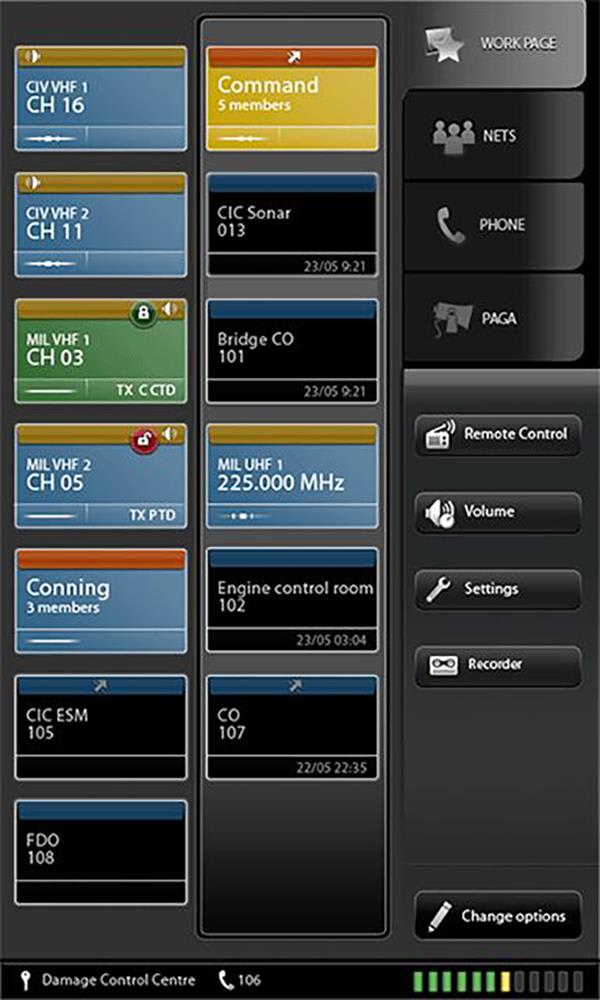 TactiCall ICS explained
TactiCall enables you to communicate across all known radio-communication technologies, civil or military, regardless of vessel type and operational duties.
Video - 3:19 min
ICS Secure Voice & Data Communication
TactiCall ICS is built to facilitate the chain of command. Naval and military communication requires RED and BLACK separation as well as security accreditation of the overall solution.