26 May 2022
Proud to support the British Army
​"Having the comfort of knowing our health and work-life balance are all a priority in the working day is so valuable to me."
Saab's Training and Simulation business has gone from strength to strength over recent times, one person who has seen this success in real-time is Jackie. With 25 years at Saab, Jackie tells us about her role, what it is like to work at Saab and how her team support the British Army.
Quick Facts
• Name: Jackie Beech
• Job title: Senior Site Technician
• Family: Two children now late 20's/early 30's. Divorced, in a relationship
• Hobbies: Quad biking on green lanes over Salisbury Plain & walks with three family dogs
• Spare time: Runs a campsite and accomodation in Tilshead
• Watches: Netflix - 'This Is Life'
• Favorite singer/band: John Newman/Fleetwood Mac
• Life motto: Don't let others get you down
​What is your job at Saab?
'I am a Senior Site Technician in the Training and Simulation (T&S) team. I oversee and inspect cable repairs, spares ordering, handle shipments and provide trouble shooting on exercises. In T&S we support the British Armed Forces with their simulation needs around the world, from Salisbury Plain to Oman. In my Saab career I have had the opportunity to travel outside of the UK offering support to campaigns in Canada and Germany.'
How did you get to where you are today?
'I started at Saab as a cleaner in the Westdown Camp workshop. After a few years I was asked if I would like to help with issuing and receipting to the customer. From here I quickly became interested in repairs, so travelled to Sweden to do my company courses which led to me becoming a Senior Site Technician here today.'
'There has been a lot of change at the camp since I started in 1997. With each structure that has been added our processes have improved, to this day we are still expanding with another two buildings recently opened to help with equipment storage and issuing points.'
What has been your proudest moment working at Saab?
'Being awarded the Director General Army Recruiting and Training's Commendation for exemplary and dedicated service to the Army's Recruiting and Training Division was one of my proudest achievements whilst working at Saab. I didn't expect the award but I was so pleased to have been recognised for all the work that the DFWES team and I did to support the British Army.'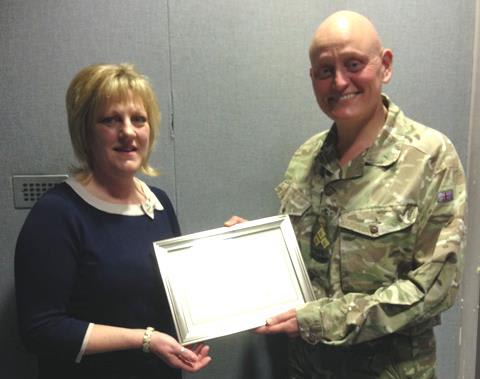 ​Why do you work at Saab?
'We all need a wage, but it isn't until you are employed at Saab that you see it is more than that, you soon become part of a family. Having the comfort of knowing our health and work-life balance are all a priority in the working day is so valuable to me.'
Tell me how Saab's mission of keeping people and society safe resonates with you.
'To the user, our training and simulations empower their knowledge and skill. Taking this preparation and training into real-life situations helps to provide a safer place for them and society.'
Finish this sentence, "Saab is…"
'I have 4 words for this. Support, Absorb, Achieve and Believe.
Support – We ensure our customers are supported with Saab products and knowledge to achieve their goals
Absorb – We develop in a changing world, adapting to current events and absorbing feedback from our customers to develop leading products and processes
Achieve – We work hard to fulfil our contracts and make the world a safer place
Believe – We have the confidence in our work, the business and our team to deliver'
If you would like to read more about Saab's Training and Simulation services click the link below:
https://www.saab.com/products/land/training-and-simulation